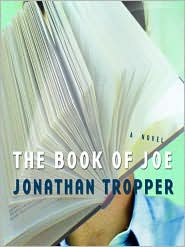 There are a million different paths that can bring you to any particular book.  At least a book that is not currently on all the best-selling lists and all that.  A friend of mine has recommended the book
This Is Where I Leave You
by this author a couple of times, and I've seen it on the front racks of my closest Borders bookstore.  That book has been on my "want" list for awhile now.  However, on my most recent trip to Borders, I found
The Book of Joe
on the "buy 1 get one 50% off" table and went for it.  So very glad I did.
This book tells the story of Joe, who grew up in a very small town.  He became a famous author after writing a book that pretty much tore the town, and its residents down with the stories of bullying and homophobia that occurred during Joe's senior year of high school.  He hadn't been back to town in seventeen years, but is forced to make his homecoming after his father becomes gravely ill.  He confronts his enemies, former friends, lovers, and estranged family members with no excuses for his book and what it did to the people he told about.  So, can you ever go home again?
This book is told in such an easy-going, casual style that is filled with such wit and sarcasm....   it's just brilliant.  It's the kind of book I love to read.  I feel like Jonathan Tropper is now my new favorite new-to-me author, and I will now actively pursue his other books.  Bottom line, I loved it.
Oh, and I should mention.... while googling the title to find a picture of the cover (which does not match the one I read, but whatever), I cam across an
IMDB.com
link.  It seems this book just might make it to the big screen.  There are very few details available there, but a date of 2012.   I am intrigued by this....   the first person that comes to mind for the role of Joe is Ryan Reynolds.  Just saying.  But then again, he might be too muscular....  hmm.....
*****
The Book of Joe
by Jonathan Tropper
Bantam Books, 2010 Trade Paperback Edition
338 pages