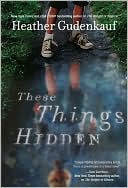 I was very excited to receive this from the publisher to read and review! I very much enjoyed Gudenkauf's first novel
The Weight of Silence
and had high expectations for this one - I believe this will be released 3/1/11 (though Barnes and Noble says 2/1/11? and e-book versions are available now?) In any event, if you can't get it now - you will be able to soon.
EDIT: I was in a Borders store Thursday night and I saw this book available in paperback!
21 year old Allison Glenn has just been released from prison. She got out early on parole for good behavior... though most people would rather have seen her never get out. Most people do not know what really happened that night. "That night" was five years earlier, and affected the lives of many people in ways that Allison herself never imagined. She knew she made a big mistake, but she never fully realized the full impact of that night.... This book is told from the point of view of four women: Allison, Allison's little sister Brynn, Charm and Claire. There is no reason for the lives of these four women to be connected in any way - but they are - because of what happened that night when Allison was 16 years old.
I absolutely loved the format for this book - each chapter told from a different woman's perspective. Each character gives up a piece of themselves in how they are seeing situations from their point of view, each of their histories a little at a time. The events of the night in question start to become realized quite quickly, which some lingering questions answered in due time.... I thought that I was going to end up disappointed, that this would just play out in the direction it appeared to be travelling in. But no! One small detail from that night comes frighteningly to light and explored so suddenly that I was shocked! I couldn't believe what was happening! I love a good unexpected twist like that. An emotional but ultimately satisfying read.
Just a word of caution though... as a mother, there were some scenes in this book that were very difficult for me to read I think it could be harder still for someone who is dealing with infertility issues. I wouldn't want anyone to be blindsided!
50 State Challenge: Iowa
*****
These Things Hidden
by Heather Gudenkauf
MIRA Books, 2011
344 pages