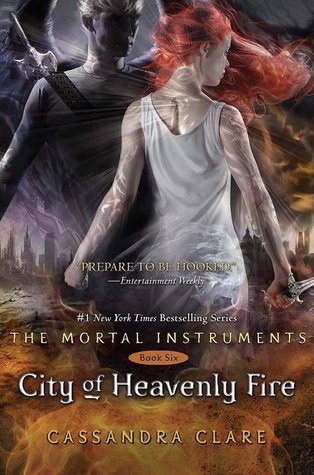 Here we are guys, the end of The Mortal Instruments series. We've been set up pretty clearly here - Clary, Jace, Alec, Izzy and Simon need to face and defeat Clary's brother Sebastian once and for all. Making things tricky though is the fact that no one knows where's Sebastian is - his presence cannot be traced. Also, Jace is still filled with the Heavenly Fire which he has no idea how to contain or control, and there is no telling if and when it will ultimately destroy him. Then there are all those pesky little things that can distract the Shadowhunter - like Alec's broken heart over Magnus, Simon and Izzy trying to figure out where they stand, not to mention all the bad blood between the vampires and the werewolves and how Simon is kind of in the middle of it. And all the while, Sebastian is raising an army of Endarkened - Shadowhunters turned Dark by the Infernal Cup - and he seems unstoppable. A major betrayal cuts the Shadowhunter Clave deeply... and lives are lost. Who will win the Dark War, and at what cost?
I don't know what it is about this world that fascinates me so much, but it does. I am just in love with it - enough to ignore some things (like predictability for instance) and just go with it. It is fun for me, especially the ties to the other books.... If you haven't read the Infernal Devices series yet, you may not pick up on all the innuendos and this book will completely spoil that series ending for you, but I loved it. I also liked how the next generation has been introduced - those who will become the main characters in the next series, The Dark Artifices, which will start up toward the end of next year. There is also something here that I believe might reference The Bane Chronicles as well... I haven't read those yet (they will be in print later this year I think) but that is fun too - gotta love Magnus!
I did have a couple little issues with this.... like I never really understood Sebastian's goal, once he expanded it beyond just destroying the Shadowhunters. Also, I kind of missed Jace's sarcastic comments. He has a few great lines, but this is a pretty dark book and so not much room for that side of his personality. There are a few super sweet moments though among the different characters, and that was a little comforting. After all, you never really know who is going to survive and who isn't - so any small moment of peace or love for them is certainly welcomed. And as I absolutely do not want to give away anything about the ending, I will say that it was a decent goodbye to this crew (though I do hope we will see glimpses of the survivors in the next series). There was one thing that happened toward the end that I kind of thought was a cop out - but maybe will lead to something interesting in the future I guess. This is definitely a must read for fans of the series.
*****
City of Heavenly Fire
by Cassandra Clare
McElderry Books, 2014
725 pages
Series: The Mortal Instruments #6
Source: Purchased New
*****
-----