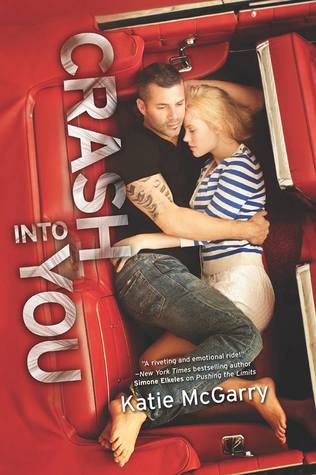 Isaiah is desperate for some quick money, so he does something he doesn't really want to do - he heads out to the illegal street races. Rachel doesn't belong on this side of town - but she loves driving fast so she thought she'd try her first race. Naturally, everything goes to hell and Isaiah and Rachel are thrown together in a race against time.... with their lives on the line. The feelings they stir up in each other prove that they must win this race.
If you've been following this series, then you know the basic formula McGarry's working with here. Boy and girl meet. They seem to be complete opposites, each have personal issues, but they somehow make sense together in perfect adorableness (with a smidge of hot and sexy mixed in for good measure). So why are we interested in reading this? Isaiah. I've kind of had a thing for him since we first met, back in
Pushing The Limits
. He is the good guy with a tough exterior that has been pretty much dumped on (mostly by Beth) from the beginning. So he needed to meet someone who understands him.
This story gets a little crazy with all the obstacles in Isaiah and Rachel's way, as well as their own personal struggles. But it does give us a great chance to catch up on our friends from the previous two books. It gets pretty intense as their deadline approaches, but I liked the balance with their more tender moments. I was worried that this would be too much about cars - I don't know anything about cars - but it really wasn't.
And we also got to meet the main character for the next book in the series - Rachel's brother West. He should be interesting!
*****
Crash Into You
by Katie McGarry
Harlequin Teen, 2013
474 pages
Series: Pushing The Limits #3
Source: Library
*****
-----