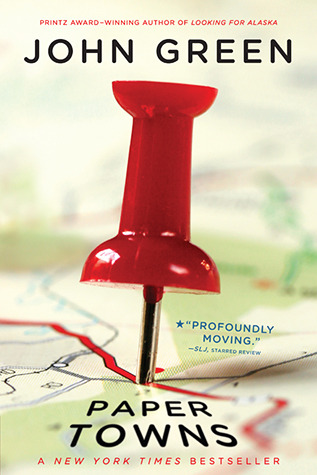 There is just about one month left until graduation when Margo Roth Spiegelman shows up at Quentin's window in the middle of the night. Sure they were best friends when they were younger - I mean, they live next door to each other - but they haven't been that close in a long time. Q just kept on admiring her from afar as she became one of the beautiful popular people, and he was just your run of the mill guy at school. So why is she at his window? Margo needs his help in what turns into an all-night adventure fueled by revenge. It is the longest - and best - night of Quentin's life... up until Margo disappears the next morning.
This is my third book by Green and I could tell I was holding myself back a little, not wanting to be torn apart by some crazy emotional scene that would completely gut me. It starts out crazy fun with Margo and Q doing all of these -things- all over town which I thought was fantastic. But then Margo is gone. Just gone. And because she's eighteen, no one is really looking for her except Q. He has convinced himself that she has left clues for him to find her... But did she really? Can he find her? This part had me feeling more like I was being strung along... though I already admit I was holding myself back. It still read pretty quickly, because I still wanted to know what happened and everything, but I wasn't blown away by this book at all. Of the three that I've read
The Fault in our Stars
is still tops,
Looking for Alaska
would come in second, and then this one. But it was necessary for me to read this before any movie talk gets more serious, so I'm glad I did (just not going to go crazy recommending this to others).
Side note: I absolutely loved the idea of "paper towns" though - both as Margo first defines it for Q, and then again as defined by map makers - very interesting bit of trivia there.
*****
Paper Towns
by John Green
Speak, 2009
305 pages
Source: Library
*****
-----