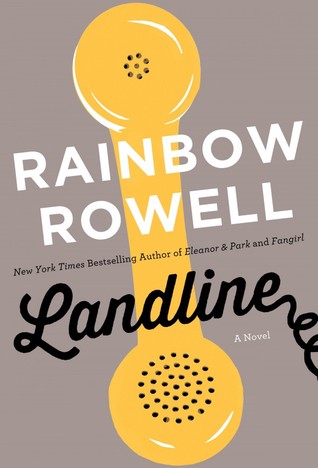 Georgie McCool knows that she and her husband probably would not have the same answer to the question "Are you happy?". She knows there is something wrong... but she is too involved with her work to properly address the situation. When work gets in the way of the family's Christmas plans - and sends her husband Neal and their two girls off to Nebraska without her - she thinks everything is going to be fine. Sure, Neal was upset that her work was keeping her home... but it is going to be okay, right? She'd
know
if he had left her, right? She's not
that
unplugged from her relationship, is she? In her loneliness and confusion, she starts spending the night at her mother's house where it seems like the only way she can reach Neal on the phone is through her mother's landline. Only it isn't Neal that she's reaching - it is Neal from fifteen years ago, just before they got engaged. What does this mean?
I am not shy about my undying love for Rainbow Rowell's writing. I have loved each of her previous books madly, and have been looking forward to this one for a long time - never even knowing what it was about. And this one is very different from the previous books. There are more "awww..." moments and giggly moments and moments that make you want to give yourself a big hug in her earlier works. And that's okay, because those don't really belong here. I found this to be a darker story that was a bit more serious and, quite frankly, hit pretty close to home for me. This addresses all those fears that you have in a marriage that is way past the honeymoon stage and struggling with the "staying connected to your husband while working and raising children" stage. It isn't easy personally, and I think it is very difficult to talk about - even with close friends because everyone's marriage and situation is different. You can try to relate, but I'm not sure how much that really works.
But it all gets laid out here... Georgie is a hardworking TV writer on the cusp of the greatest opportunity she's ever had in her work. And she loves her job. Neal is a stay at home dad to their two little girls, and he is great at it. But Georgie is selfish and self-absorbed and Neal is a terrible communicator. I really wasn't sure through most of the book how I wanted it to end. Do they work it out? Do they go separate ways? What really is best for them? And there you have it - What is best for them is what is best for them - my thoughts aside - and it works out the way it should for them.
And before I start you thinking that this is a super serious book that contradicts what we know about Rowell... there are plenty of quirky charm and kind and fun moments as Georgie recounts her past with Neal... fans and readers new to Rowell won't be disappointed.
*****
Landline
by Rainbow Rowell
St. Martin's Press, 2014
308 pages
Source: Purchased New
*****
-----