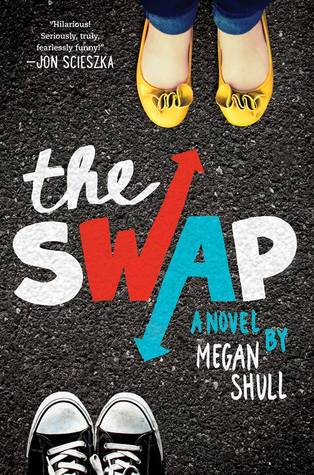 The school year hasn't started out so well for either 7th grader Ellie O'Brien or 8th grader Jack Malloy. Ellie has found herself dropped by her former best friend and now the subject of mean "jokes" by said ex-BFF and her new BFF. Jack is the so-called "Prince of Thatcher Middle School" but few realize how strict his home life is, and how deeply committed he is to being a professional hockey player some day. But him getting in a fight in school threatens to make some major problems for him - especially at home. When Ellie and Jack have a chance meeting in the nurse's office, something strange happens - they swap bodies and are forced to live as the other as best they can. They get to see how the other lives, and get to know each other like no one else can. But how do they get to swap back?
Our library has partnered with our local Fun Hockey League for children for a program called "Skate and Read". It is a great opportunity for kids to learn how to skate and get hockey coaching in a low cost and low pressure situation. This is the "Fun Hockey League" after all. But they are also required to read books during the program session, which is great! At a recent planning meeting for next year, we worked on creating an updated book list for the players. This was offered up as a suggestion, and as the YA Librarian of the group, I volunteered to look it over... and ended up reading it in a single day. Not only is this perfect for the older kids in the program (6th -9th graders) but I think this is going to be a great add to our collection as well.
This entire story is adorable and sweet and perfect. You cheer for our main characters as they battle their bullies, and you laugh as they try to navigate the other gender's position in the puberty experience and other awkward situations of adolescence. Ellie is a stellar soccer player, but the loss of friendships that she thought were important undermine her confidence.... Jack helps with that. Jack is a phenomenal hockey player, but doesn't feel loved or emotionally supported at home.... and Ellie helps with that. This was really fun to read!
*****
The Swap
by Megan Shull
Katherine Tegan, 2014
400 pages
Source: Borrowed ARC
*****
-----