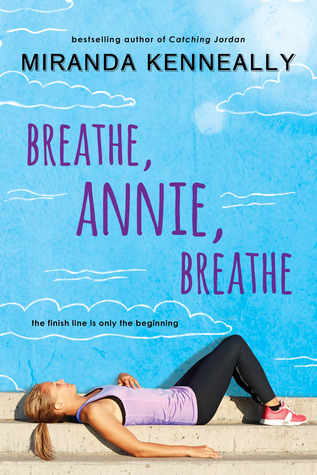 Annie hates running and has always hated running. So why is she training to for a marathon? She is doing it in memory of her boyfriend who died tragically and suddenly at the beginning of the school year. She feels guilty, like it is her fault Kyle died.... and as much as she hates it, she likes that she is focused and is following a schedule as part of her training. It is helping her. Enter Jeremiah, her running coach's brother. He has his own set of issues, but Annie still feels drawn to him - at least as a friend... but these feelings create a whole new set of guilty feelings.
I think this is the fifth book of Kenneally's set in this area of Tennessee, but it is the first I've read. I have a feeling that some characters were introduced or included mostly as a gift to those who have read all of the books... but I didn't have any problem with that. I may read some of the others someday. But I wanted to read this because it is in part about a girl who hates running but learns how to do it anyway. This appealed to me as one who has spent this entire summer doing more exercise than ever before in my life and while I want to learn how to run, I haven't quite taken that leap yet. Annie's schedule scares the crap out of me but seems incredibly realistic. That aside, I did have some small issues with the writing style - nothing major, just some things that didn't seem necessary to repeat and such. I honestly wondered if it was an attempt to be more inside Annie's head, but it wasn't consistent enough for that. Not a deal breaker for me, and I really ended up liking Annie quite a bit. Also, Jeremiah. Annie's tougher than she thinks she is, and Jeremiah is softer than he lets on.
All in all I did enjoy this and will recommend to older teens interested in grief/survival/romance stories or stories about reinventing yourself.
*****
Breathe, Annie, Breathe
by Miranda Kenneally
Sourcebooks Fire, 2014
307 pages
Series: Hunded Oaks #5
Source: Library
*****
-----