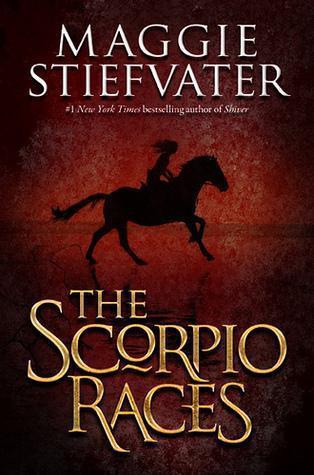 It is almost time for the annual Scorpio Races, and surely someone is going to die. The races happen every November 1st on the island of Thisby, the island where the dangerous water horses come ashore every fall and are raced on the beach for money by the bravest men. The water horses are larger and faster than normal horses, and have sharp teeth to help them tear into the meat that is their favorite meal. Nineteen year old Sean Kendrick has won the Scorpio Races four times in a row and is the clear favorite. Seventeen year old Kate "Puck" Connolly has never raced, has never been on a water horse and hates them for killing her parents, but is compelled by circumstance to enter the race. The stakes are high for these two riders, and only one of them can win.
I listened to the first half of this book on audio, and read the rest in print. I'm really glad I did this, because while I did get the feeling that this was set somewhere near Ireland or had Celtic influence (and it is based loosely in Celtic myth), nothing made that more obvious than the lovely accents of the two narrators: Steve West (Sean) and Fiona Hardingham (Puck). Having these two narrators really added to the enjoyment and the overall tone of the story for me . It also helped me figure out how to pronounce the native name for the water horse:
capall uisce
which is said something like CAP-all ISH-ka.
The characters are developed beautifully... even the secondary characters. But the pace and plotting are really the stars of this book. The scene is set with a quiet intensity and the events build and build the tension in such a masterful way. I was really surprised, honestly, because I did not expect something like this after the
Shiver
series (proof is that I haven't read it until now!). This is just on a completely different scale than that series. I am just kind of in awe, and cannot wait until the book club for younger teens reads and discusses this together!
*****
The Scorpio Races
by Maggie Stiefvater
Narrated by Steve West & Fiona Hardingham
Scholastic, 2011
404 pages or 12 hours 7 Minutes
Source: Library
*****
-----