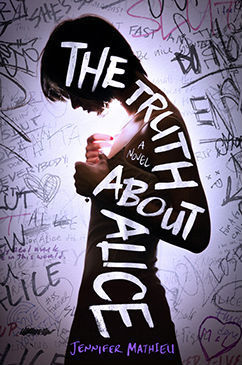 Even if you weren't at Elaine O'Dea's party that night, you've heard about Alice Franklin. Everyone at Healy High heard about how she (probably) did two guys in one night at that party. The rumors just got worse when one of those guys, the football team's star quarterback Brandon Fitzsimmons, died a few weeks later in a horrible car accident. After all, everyone says that Alice caused the accident by (supposedly) sexting Brandon while he was driving. Everyone is a expert on all of the things that Alice (probably) did, so let's hear this story from four people all involved in the gossip mill in one way or another - either by spreading the rumors or by not standing up for Alice.
This story is told in a rotating point-of-view format. The main narrators are Elaine who hosted the party, Kelsie who is/was Alice's best friend, Josh who was Brandon's best friend, and Kurt who is the school's genius outcast and Brandon's next door neighbor. I could picture each of these character's telling their stories while sitting and feeling uncomfortable on some television interview stage.
I feel like this is an important story for teens to read and hopefully discuss. It points out easily just how damaging gossip can be, how quickly it can spiral out of control, and how painful and life-altering the effects can be for the victim. The story is told very simply and isn't very long so I can see this being recommended to older teens who are reluctant readers or maybe read below level, or to teens who have a particular interest and want a very quick read.
And my personal take on it? I love the message, hated almost all of the characters (its true here again that I always like the nerds; they are my people), and absolutely hated the ending. I really wanted something to cheer for, to rally behind - and I felt cheated. What did you think?
*****
The Truth About Alice
by Jennifer Mathieu
Roaring Brook Press, 2014
199 pages
Source: Purchased New
*****
-----