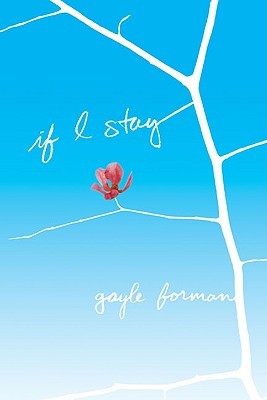 Mia really has kind of the perfect life. She has awesome parents who love her, a fun and happy little brother, a best friend that absolutely has her back and a hot musician boyfriend. She even seems to have the talent to really go somewhere as a cellist. Probably the worst thing in her life is that her boyfriend Adam's band is really getting popular and so he's away playing gigs a lot. Also, she may just get into Julliard, which would put some more physical distance between them. But then her family decides to go for a drive one snowy morning and something truly terrible happens - a car wreck that leaves Mia in a coma, faced with the decision to stay or go.
This is a story designed to pull every single emotional punch it can... have your tissues ready. Probably not the best decision on my part to listen to this while driving. But, anyway - I did because I wanted to read the book before seeing the movie.
This is told completely from Mia's point of view, during the 24 hours or whatever that she is in this coma. She can see herself, she sees the people around her, and she is aware of what has happened to everyone else involved in the car accident. Through flashbacks, she lets us know how she got to be in this place - her parent's history, how she became friends with her best friend Kim and how she and Adam got together. Listening to the audio version, I sometimes got a little confused as to when we were entering or coming out of a flashback, but that's okay. The narrator was pretty great as Mia, which if she wasn't - could have ruined the entire experience.
As it was, this book came with a lot of hype. A LOT. Plus the whole movie thing. And while it was good, I don't think I'm quite as in love with it as others have been. I'm not even sure why - but I think maybe it was because I wanted to know more from Adam's point of view. And since that is the basis of the follow-up book,
Where She Went
, I think I will eventually read that one too. I'm just not in any rush.
*****
If I Stay
by Gayle Forman
Narrated by Kirsten Potter
Dutton/Listening House, 2009
201 Pages / 4 hours 48 minutes
Series: If I Stay #1
Source: Library
*****
-----