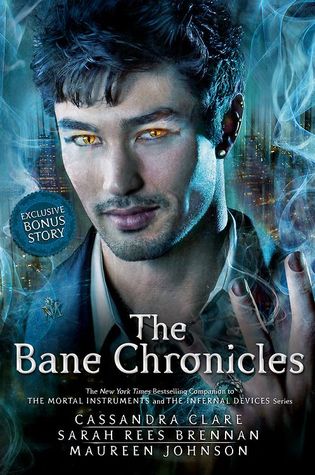 So you *might* recall that I am a huge fan of the Shadowhunter world created by Cassandra Clare in
The Mortal Instruments
series and
The Infernal Devices
series. Therefore, I'm sure you're not at all surprised that I jumped for this book as soon as it arrived at my library. You might be surprised at just how unimpressed I was though... I mean, I sure was. So....
This is a collection of short stories written by Cassandra Clare and one or two of her friends, Sarah Rees Brennan and Maureen Johnson (both published authors in their own right). All of these short stories are about the illustrious Magnus Bane, the warlock we love from the Shadowhunter world. Each story takes place in a different period of time (Magnus is a couple centuries old after all) and feature other characters from the Shadowhunter world. Everyone loves Magnus from the other books and wants to know more about him, so here you go.
These short stories were originally released one at a time digitally, and I think they might read somewhat better that way. If given a little time between each, you might not feel like Magnus' fashion choices are so repeatedly over-emphasized for effect and not to add to the story. Also, the different authors definitely add their own style onto the writing - which when taken all together, doesn't seem to flow well from one to another. One of the authors (and I'm not sure which) has a thing for strange sentence structure which was confusing at times and took me right out of the scene. Also, some of the stories were just plain boring. And really, this can only be read and truly understood by those whom have already read all of the other books. Even if they had only read a couple, these spoilers would ruin the rest for you. If they hadn't read the books, this is absolutely NOT the place to start.
The stories I liked most were the ones that more directly involved the Herondales or Alec Lightwood, though I suppose most would agree to that.
*****
The Bane Chronicles
by Cassandra Clare, Sarah Rees Brennan, and Maureen Johnson
Margaret K. McElderry, 2014
507 pages
Series: Companion to
The Mortal Instruments
and
The Infernal Devices
Source: Library
*****
-----