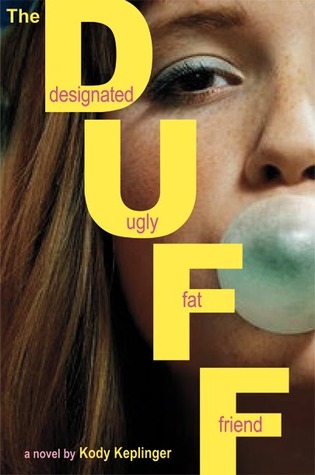 Bianca doesn't know why this is happening. Why on earth is she even thinking about Wesley? He is seriously the biggest a-hole womanizer playboy in school.... she hates him even before he informs her that she is the "Duff" of her friends. Duff - as in Designated Ugly Fat Friend. She can't stand him. But things are going from bad to worse at home and she doesn't want to think about it. Being with Wesley makes her numb to her problems - he is really nothing more than a distraction. But the more time they spend together, the more they get to know each other and find that they may have more in common than they thought. Bianca cannot be falling for Wesley, can she?
This has been sitting on my shelf for a long time, but I'm glad I finally got around to it. I've heard that they were
filming an adaptation
of this too, and it actually looks like it may be coming out next month. So there's that - gotta read the book before the movie!
Honestly, I wasn't really sure what to think of Bianca at first. She's cynical and sarcastic, which I usually like, but to an extreme that made it hard to really embrace her. Wesley really comes across as a jerk at first, and I loved that Bianca threw her drink at him. (Side note - I have done that before, and it feels really really good.) They do have this chemistry and passion though that is undeniable.... and it was really fun watching them figure that out and decide what to do with it. Bianca also has these two really awesome best friends, and I always like seeing healthy girl-friendships written into YA novels.
Being honest, I'm going to say that I wasn't completely blown away by this, but I did enjoy it. It is also making me remember
A
Midsummer's Nightmare -
as it is a later companion novel that I a read about a year and a half ago - and wanting to skim through it again.
*****
The DUFF: Designated Ugly Fat Friend
by Kody Keplinger
Poppy, 2010
277 pages
Source: Purchased New
*****
-----