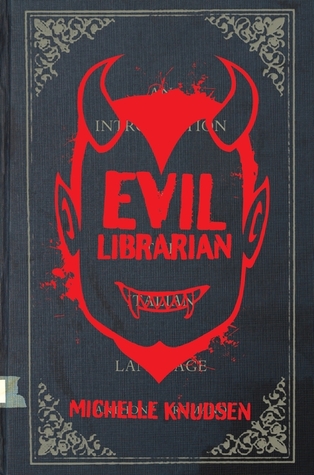 Mr. Gabriel is the new school librarian, and while Cyn doesn't see the big deal - she kind of loves that her best friend Annie has developed a crush on him. It kind of makes up for all the times Annie has had to listen to Cyn go on and on about her hopeless crush, Ryan. But Annie's crush seems to get a little crazy pretty fast... and Cyn doesn't have a very good feeling about Mr. Gabriel. She starts to notice things about him, and the affect he has on other students - not just Annie. Evil things. Is Mr. Gabriel really who he says he is? Or is there something more sinister going on.... Cyn has to find out and save her friend all while putting on the best school musical ever.
I'll be honest, I got this book for the library on title and cover alone. I mean, how could I not? And then I read it, and oh my goodness is this book fun and completely unexpected. Cyn is so freaking funny - I laughed out loud many, many times. And then the whole evil librarian thing got really creepy too, which I also love. There is also this crush/love story that is adorable. This book has it all!
This book was exactly what I needed to help me out of my reading funk. The writing is so fresh and just what I was looking for. I also have to add that while there is a glaring set up for a trilogy here, there is absolutely no cliff-hanger type situation. This completely stands on its own. And while I would love to spend some more time with Cyn and Ryan and Annie and some other more unusual characters that we met here... I love that it doesn't feel urgent or rushed. The stories will come when they are ready and awesome, or they won't and I am perfectly happy with either option.
I highly recommend this to someone looking for some fun with their creepy and a side of romance, a fantastic best girl friends story with a touch of adventure as well as the strange and unexpected. Just go with it - it is worth it!
*****
Evil Librarian
by Michelle Knudsen
Candlewick Press, 2014
343 pages
Source: Library
*****
-----