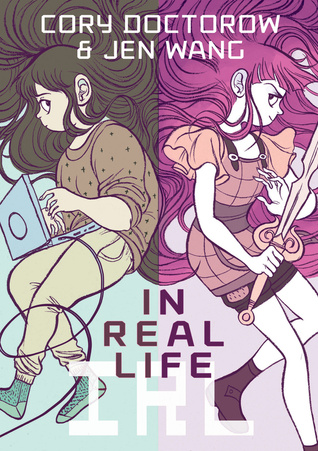 Anda discovers the MMRPG game Coarsegold and everything changes. Where she felt kind of alone and invisible and perhaps even powerless in real life, she found friendship, goals, and power in the game. As she explored the world within the game, she got to know the other players - the roles they play within the game itself, but also what is happening in their real lives. Anda decides to break her usual character - and do what she can to help others both inside and outside the game.
I'll be honest here - this is the first time I've read Cory Doctorow, but I have heard many many good things about him. So I was very interested when I saw that he had a graphic novel out. And while I am not a gamer girl by any stretch of the imagination, I get it - or at least I think I do (to a point, anyway). Doctorow wrote a fascinating intro to this book that really got me excited about what was to come; he spoke about economics as a driving concept of life and how economics affect people differently. This works as the general theme of this story and I really liked that. The actual story itself is kind of lightweight where it may have gone deeper in a traditional novel, but it works for this format.
This is a great choice for anyone who likes MMRPG online gaming, or who likes to lose themselves in their leisure activities.
*****
In Real Life
by Cory Doctorow
First Second, 2014
175 pages
Source: Library
*****
------