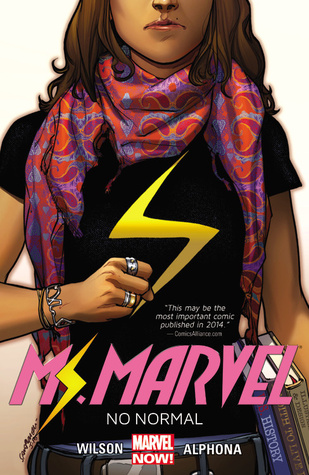 16 year old Kamala Khan wishes that she was a bit more normal, but she isn't. She is who she is, a Muslim teen girl living in Jersey City, New Jersey, idolizing the Avengers and wishing she was allowed to do things like go to parties with the other kids from school. When a freak fog rolls in, it seems she is granted superpowers and becomes the new Ms. Marvel. It isn't easy for her to figure out what that means, or what kind of superpowers she has... or how this is all supposed to work. And who can she tell about this? The only thing that is certain, is that she's probably going to be grounded forever now.
I LOVE this story line! Kamala is so easy to relate to, and all the issues that she's having with this transformation make absolute sense. And she's fun, too. She has a couple of best friends that represent the worlds she's trying to piece together within herself: A fellow Muslim girl and an American boy with nerdish tendencies just like her. She gets some evil to battle as well, and considering how long she's been a superhero - it doesn't go very well. But the big story is really dealing with being yourself, figuring out who you are, and finding peace with that.
For extra fun - check out the fine details in the art, especially in the backgrounds. Some definitely made me giggle, and it all worked to keep a more lighthearted feel to this book, even though it is certainly dealing with a heavy topic.
This book collects issues #1-5 as well as some material from
All-New Marvel Now! Point One #1.
Can't wait for more!
*****
Ms. Marvel #1: No Normal
by G. Willow Wilson
Marvel, 2014
120 Pages
Source: Library
*****
------