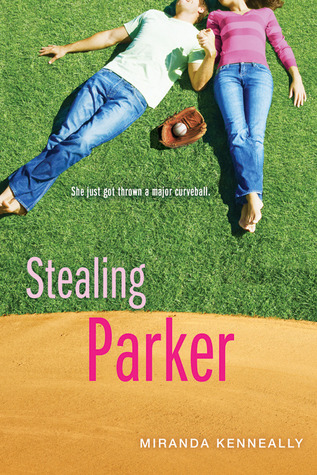 Parker was on her way to getting everything she wanted. She was a good Christian girl involved in the church, the star of the softball team, she beat her closest competition to win the valedictorian honors, and she has already been accepted at Vanderbilt for the fall. But then her mom dropped a bombshell - she came out as a lesbian and moved out with her girlfriend - and Parker's world crashed down around her. Her friends dropped her and started talking about her behind her back, even suggesting that since she is so good at softball, she might be gay too. So Parker decides that since her dad isn't noticing much anymore, she's going to try to make a few changes and prove that she isn't her mom. She quits softball. She kisses a few guys. And then.... she starts kissing a guy she probably shouldn't, while thinking about kissing a guy that she definitely shouldn't.
This is a companion novel to
Catching Jordan
, which I really liked. I was so afraid through the first quarter of this book that it was going to be pretty much the same sort of story... and so relieved that it wasn't. Parker has her issues, and she doesn't deal with them in a healthy way at all. But then again, who is she going to turn to? Pretty much everyone (except her awesome best friend Drew) left her and she was doing the best she could I guess. I had concerns about how badly she wanted to prove to people that she wasn't gay like her mother. I felt like she was being homophobic with that sentiment, but it was explained that she had no problem with her mother's sexual orientation but was really upset that her family was torn apart. Then, later on, a close friend of hers comes out to her and she is super supportive and I was thankful for that. Beyond that, Parker is supposed to be super smart - top in her class - but makes some super stupid decisions. (Plus all the confusing feelings on homosexuality... it was kind of like two different people mashed together.) It takes her such a long time to come around and finally regain some of her self-esteem. A lot of this comes from a new/renewed friendship with Corndog (yes, Corndog. There's a story there, its cute, go with it.) That's all I'm saying about him.
I will say that Jordan from
Catching Jordan
shows up in this book, along with a few more favorite characters. I know I'll read more in this series, and I'm reading it in order - but you don't really have to. I'm not sure this is the best book to read that deals with being the child of a newly out parent. I am still a little conflicted about how that was handled. But I will say this is a good book that deals with feeling completely lost and alone, and getting back on the right track.
*****
Stealing Parker
by Miranda Kenneally
Sourcebooks, 2012
242 pages
Series: Hundred Oaks #2
Source: Library
*****
-----