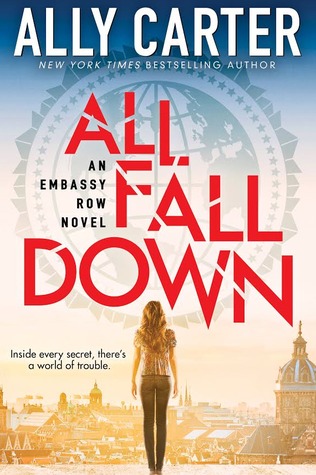 Grace has just arrived back in Adria, the small European country to which her grandfather is the Ambassador. She had spent summers here growing up, and it feels like going back in time a little. But with that comes memories of her mother, painful memories since her mother died three years ago. The thing is that despite what all the doctors and her family has been telling her, Grace knows that the fire was not an accident - her mother was murdered. Grace knows what she saw - who she saw that day.... especially when she sees this person again in Adria.
I love love love unreliable narrators! They make stories so much fun! As a reader, it is natural to fall in line with the main character or narrator. They are telling you a story and you want to believe in it. But what if they can't be trusted?
In this case, Grace has obviously been under a doctor's care or hospitalized since her mother died. Is she really crazy? Or is she sane, but no one believes her? Is it easier for everyone else if she can be called crazy? Grace walks this line, and she doesn't even really know the answers herself. There are a cast of characters who don't believe what Grace has to say about the day her mother died - this would include her Grandfather and his right-hand woman Ms. Chancellor. There are some friends, other "Embassy Row" kids, who do believe her - Noah, Megan, Rosie, and Alexei. There are conflicts everywhere, and absolutely nothing is certain.
Hand this to a teen who likes conspiracy theories, fast-paced action, and lots of suspense and mystery. There's no room for romance here, but there is a major cliff hanger that will leave readers anxious for the next level of the puzzle. I have a suspicion that this will become similar to the
Heist Society
series by the same author, which makes this a slam dunk for those fans as well.
*****
All Fall Down
by Ally Carter
Scholastic, 2015
310 pages
Series: Embassy Row #1
Source: Provided by Publisher for honest review
*****
-----