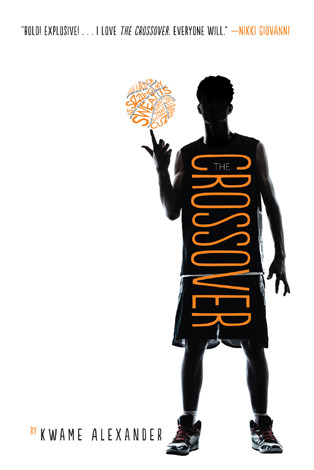 Josh "Filthy McNasty" Bell and his twin brother Jordan "JB" Bell live and breathe basketball. Their father had been a championship winning professional ball player in the European Leagues, and he has taught these boys everything he knows the best he can. This story is centered around the boys' 8th grade championship run. However, there are things happening in their lives that Josh is having trouble accepting.... like that his brother has a girlfriend and seems to be leaving him behind, and that his father seems to be ignoring advice to see the doctor about a potential heart condition. Everything comes to a head, but you have to read this to see how it all plays out.
Josh is a smart and sensitive kid, passionate about basketball and his family. He tells his story in vibrant verse - I loved the way the words danced and played on the page. You can feel his excitement when he's on the court, and his confusion and loneliness as he feels left behind by his twin brother. Early on in the book, circumstances force Josh part with something which he had tied to his identity. This is just the start of him rediscovering this older version of himself - the one who might like to have a girlfriend, who misses his brother, and who worries about his father. This is just a great story told in a wonderful way. I am so glad I finally read this! I do wish I hadn't finished reading this at work though, because I wanted to freedom to cry at the anticipated yet heartbreaking ending.
I have already given this to younger teens who requested "sports books" with success. There have been a few times when a reluctant reader was intrigued by the fact this is written in verse, like a rap. I would also suggest this is readers looking for male characters or are interested in friendship/family stories.
*****
The Crossover
by Kwame Alexander
Houghton Mifflin Harcourt, 2014
237 pages
Source: Library
*****
-----