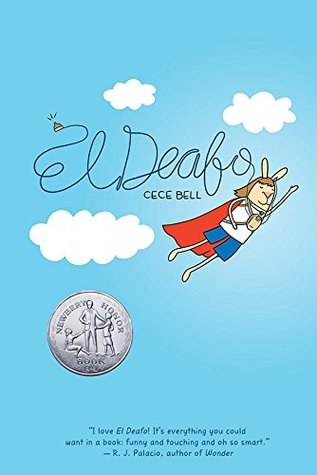 When Cece is just four years old, she gets really sick. She finally returns home from the hospital, only to discover that the illness took away her ability to hear. This graphic novel memoir recounts Cece's childhood years in trying to navigate her new reality. She is fitted for a Phonic Ear, which is a hearing aid that looks like a box that she wears on her chest with earpieces attached by cords. It makes it incredibly obvious that she's different, even if she tries to hide the Phonic Ear under her shirt.
While not being able to hear certainly presents its difficulties to Cece - not being able to understand the TV or radio, or be able to lip read in the dark, or misunderstanding what someone is saying - much of what Cece is talking about are the side effects that a hearing person might not recognize right away. Like how isolated and lonely Cece feels all the time, or how she feels like it is just easier to be alone that deal with people staring at her or making her feel more different than she already does. Cece combats this with the idea of her secret super hero identity - El Deafo. This identity gives her strength and lends humor to her daydreams - and may end up coming true, at least in part.
I loved that the art and the text in this graphic memoir is simple and cute (the people are bunnies - adorable) but there is that extra layer there for older readers (bunnies have big ears, think about it) which broadens the audience for this immensely. This is really a wonderful book for tweens and teens, especially if curious about one aspect of the deaf experience. There is a fantastic author's note at the end that really explains how wide and varied deaf culture is and why her experience truly only represents one aspect. But I would also give this to readers who might identify in some way as feeling alone or different (ahem.... that could be every single reader in some way). And I would encourage readers to also take the time to read the acknowledgements, especially if they are questioning the ending because there are a couple thank you's in there that are very sweet.
*****
El Deafo
by Cece Bell
Abrams, 2014
242 pages
Source: Library
*****
-----