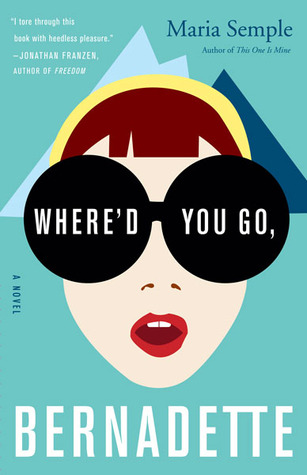 Bernadette Fox, Bee Branch's mother has disappeared. You see, Bee had made a deal with her parents, Bernadette and Elgin, that if she got perfect grades throughout her middle school career - she could ask for anything she wanted. She asks for a family trip to Antarctica, and Bernadette and Elgin agree to keep their word and that maybe a three week family vacation could be what they need. However, as the trip nears, Bernadette starts to unravel. This is the story of Bernadette, leading up to when she disappears as told by Bee... and what happens afterward. The supporting cast includes a crazy neighbor, delusional administrative assistants at Microsoft, people at the bottom of the world, and the Russian Mafia. I loved it.
I have wanted to read this for such a long time. I had heard so many great things about it, and even bought it at the library book sale a few book sales ago. So now that I'm at the end of my grad school career, and life is as stressful as ever... I decided that now was the perfect time to dig into this funny book. And it worked! Truthfully, I would have liked it at anytime. These characters are so delightfully quirky.... they really set up a great story. The whole book seems to want to set up the question: Is Bernadette crazy? Did she have a break down and run away? And with all of the twists and turns, you don't really know until the end. This would be perfect for book groups (you know, if you haven't read it already). I can only imagine the conversations you could have about this book!
*****
Where'd You Go, Bernadette
by Maria Semple
Back Bay Books 2013. First Published 2012.
326 pages
Source: Purchased Used
*****
-----