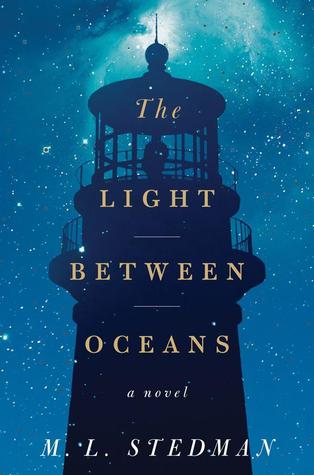 Tom and Isabel are very happily married, very much in love, and live in complete isolation at the lighthouse 100 miles from the South Western Australian coast. They only receive visitors once every 3 months, and that is because they bring their supplies, and they are allowed to return to the mainland once every three years, excepting major emergency situations. They have tried for years to grow their family, but three miscarriages have broken this dream. One day, after a particularly bad storm, a small wooden boat washes ashore. Inside is the body of a man, and a tiny healthy baby girl wrapped in a woman's sweater.
With no one around, with their loved ones not realizing that the last pregnancy also ended in miscarriage, and assuming that the mother of the baby had also died at sea.... Tom and Isabel decide not to report what happened, and to just raise the baby as their own. I'm not going to say that they both thought this was the best idea, but they did both agree to it. Guilt eats away at them as the truth tries to make itself known.
The audio for this was fantastic. Narrator Noah Taylor adds an authentic Aussie voice this book. I loved the beautiful descriptions of the settings, especially the Lighthouse. The characters are wonderfully developed and flawed. They create the basis for the moral questions raised in this story. What would you do in this situation? What would you do if you didn't think you would get caught? How do you go about making a wrong thing right? I will say that I think the audio was perfect for me here because some parts were a bit slower moving than others - which worked to set the tone of the book and shape the scenes, especially those at the Lighthouse - but that may not have been enjoyable for me to read. However, with the audio, I did confuse a couple characters whom I thought were minor but one proved to play a much bigger role in the overall story.
This is an excellent book group selection. In fact, this was the first book I've read as part of the adult book group that I'm going to start assisting with at the library. I'm excited to join and help facilitate this group, as well as the concerted effort I will be making to get back into adult fiction again. I'm looking forward to a more balanced reading palate!
*****
The Light Between Oceans
by M.L. Stedman
Narrated by Noah Taylor
Scribner, 2012
Simon & Schuster Audio. 2012
343 pages; 9 discs
Source: Library
*****
-----