This post is going to be a little different. I read both of these books in the same day as part of Dewey's 24-hour Readathon. Normally, I would never read such similar books so close to each other... mostly because I try to make it a point to mix it up a bit. But I really like these books (they are part of a larger series of interconnected books) and they really seemed to fit my mood during the Readathon. Actually, they were perfect and maybe I need to reconsider my need to always mix it up.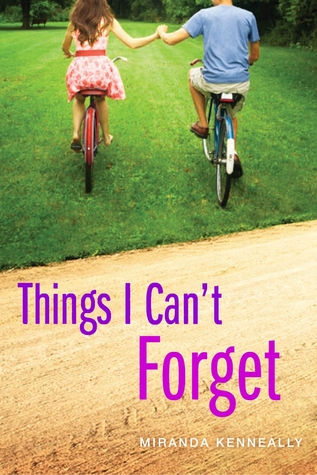 In Things I Can't Forget, we meet Kate Kelly. She's always picked on by classmates for being a "Jesus Freak", but she stands by her beliefs. Things that happened recently though are giving her major inner turmoil: she and her best friend were involved in a situation that has ultimately driven them apart and for which Kate feels extreme guilt. She is trying to work through her guilt by looking for forgiveness from God. She is spending the summer working at the summer camp run by area churches. This is where she went when she was young, and she has fond memories - including her very first (and only) kiss. Imagine her surprise when her partner in that kiss, Matt Brown, is also working at the camp! He is working through issues of his own, but maybe together they can see their way free.
This was an interesting book for me, because I usually stay far away from any books that deal specifically with issues of religion and faith. This is handled so well here though, that it ultimately was something I needed to read. The overall theme, the one thing that Kate needs to learn, is that one person's truth is not another person's truth
and that's okay
. Kate was so sheltered and naive that I really enjoyed watching her grow. And I of course loved seeing Parker & Will from
Stealing Parker
play a decent role in this story as other counselors at the camp.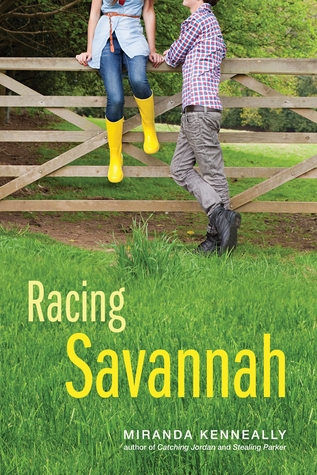 Racing Savannah moves a little more into the future, and starts to look at the next group of juniors & seniors at Hundred Oaks High. Not much of this story takes place at school though - rather this is centered at Jack Goodwin's horse ranch and various horse tracks in Tennessee and Kentucky. Savannah has just moved to the ranch as her father is newly employed by the Goodwin family as Head Groom. Savannah hopes to work as an with the horses to help raise money for her struggling family. Jack and Savannah are the same age, and have an instant connection.... but there are rules that the family cannot be involved with staff on a personal level. So Jack and Savannah are toeing a delicate line... one wrong move could be the end of Savannah's father's job - a job he desperately needs.
This was great..... I really loved Savannah. She is talented enough to do the jobs with horses that are not typically held by females, and she fights for her fair opportunity. When Jack tries to date her, but only in secret - she stand up and says that's not good enough for her. She deserves more. Yeah! I had a little issues with minor points in this book - like small things needlessly repeated or that Savannah and Rory (Will from
Stealing Parker
and
Things I Can't Forget
's younger brother) become close friends really really fast.... but its okay. Everything else makes up for it!
So now I am completely caught up in the Hundred Oaks series, though I think I want to at least skim through
Breathe Annie, Breathe
again. The next book,
Jesse's Girl
is due out in July!
*****
Things I Can't Forget
by Miranda Kenneally
Sourcebooks Fire, 2013
308 pages
Series: Hundred Oaks #3
Source: Library
Racing Savannah
by Miranda Kenneally
Sourcebooks Fire, 2013
286 pages
Series: Hundred Oaks #4
Source: Purchased New

*****