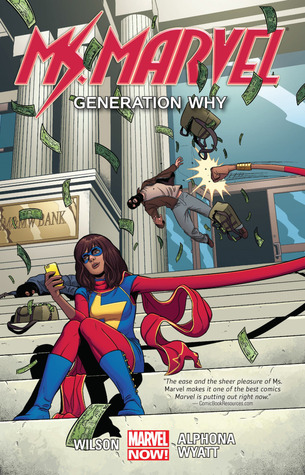 Ms. Marvel is the superhero persona of Muslim teen Kamala Khan from New Jersey. In this volume, Ms. Marvel discovers The Inventor's evil plan, gets some assistance from other superheroes, and makes a case for the future of all teens everywhere. Its pretty epic.
I love Ms. Marvel so very very much. She is incredibly awesome! She's balancing these new powers, balancing her "normal" life with her "superpower" life, and finding connections with her family and cultural values in the whole grand scheme of things.
I loved seeing Ms. Marvel interact with others - Wolverine is just the best. I hope this means that we may see more interactions with other Marvel heroes (or villains). I mention villains because she really does need someone decent to go up against. The Inventor just doesn't do it for me . I did get a kick out of his evil plan I suppose, be he, himself, is just odd to me. But I guess we'll just see what happens in the next volume of collected books! (I really wish I could get my act together enough to visit my local comic book store regularly, but I just can't. And please don't tell me to look for them digitally... I appreciate the thought and I love my Kindle Fire, but I still prefer the paper books.)
This volume collects issues #6-11.
*****
Ms. Marvel Vol. 2: Generation Why
by G. Willow Wilson
Marvel, 2015
136 pages
Series: Ms. Marvel/Marvel NOW! #2
Source: Library
*****
-----