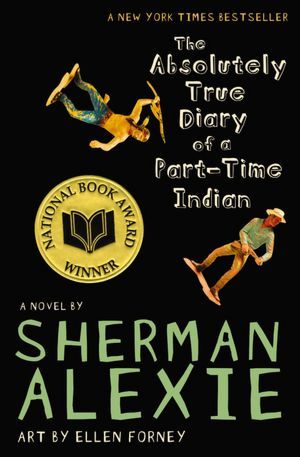 This is Arnold "Junior" Spirit's story of his particular life. This is about growing up poor on the reservation, how he is taught not to want anything better for himself, how to give up on big dreams... it's pretty depressing because Junior is smart. Sure, he gets beat up a lot but he likes learning, he likes to read, and he likes to draw cartoons to help himself understand and connect with the world. One teacher sees the potential in Junior, and suggests something crazy - that Junior go to a high school off the reservation. This is something that Junior could never take back - he is seen as a traitor to his tribesmen, a compete outcast by his new white classmates. Junior starts to go by Arnold, and feels like he's losing part of his Indian-ness... and what is he becoming? What does this mean to him, for him?
This is one of those YA novels that is destined to be a classic and just something everyone should read. It confronts racism and cultural identity head on, while also demonstrating the far-reaching affect of alcoholism within a family - and a tribal community.
I love the conversational tone of the writing. It kind of feels like Junior is just sitting with you and telling his story. Some of the lines are so casual at first glance, but speak to deeper meaning and understanding. Also, the illustrations are just wonderful. They may not have been completely necessary, but they do help the reader connect to Junior a bit more. Honestly, I loved it all!
*****
The Absolutely True Diary of a Part-Time Indian
by Sherman Alexie
Little, Brown and Company, 2007
230 pages
Source: Library
*****
-----