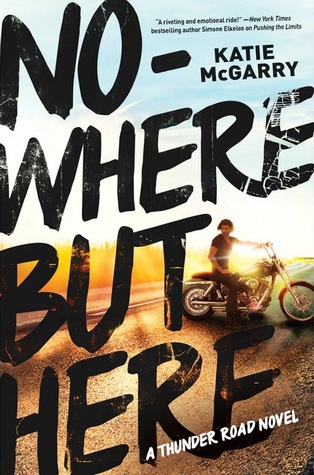 Emily doesn't really know her biological father. Eli has only recently re-entered her life with once a year visits... oh, and he's pretty high up in a biker club. For the first time ever, she's going to be meeting up with him on his ground... and unforeseen circumstances make it a much longer visit than she had anticipated. Oz wants nothing more than to become a brother in the Reign of Terror, the biker club he's grown up in. He is ready to become a prospect. But first, he's been put in charge of protecting Eli's long-lost daughter as the club is having issues with a rival biker gang. Where the Reign of Terror is an above-board nothing-illegal club, this other gang is not - and Eli doesn't want Emily caught in the middle. In the meantime, Oz and Emily are spending a lot of time together.....
So I'm not one to jump for books about bikers, but I do love Katie McGarry's writing and she definitely knows how to spin a love story between complete opposites. Therefore, I went for it. At first, I was wary because by like page 50 I could see pretty much exactly how this was going to happen. And while I was pretty much dead-on, I still got wrapped up in it all. The community and family relations among the members of the bike club was not what I expected, and I enjoyed getting this little glimpse into that world as McGarry recreated it.
I liked Oz and Emily together. Sure, there are some pretty steamy scenes but I also appreciated the way they worked together to tear down preconceived notions they held about each other and stepped outside themselves to see new possibilities. This is the first book in a new series that will be built around the brotherhood of the Reign of Terror. I don't know that I'll be jumping on the next book when it's released in March 2016, but I will probably still read on at some point. They're just too much fun not to.
*****
Nowhere But Here
by Katie McGarry
Harlequin Teen, 2015
496 pages
Series: Thunder Road #1
Source: Library
*****
-----