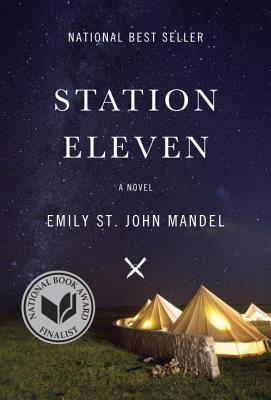 Where do I begin?
Station Eleven
is a novel that tells a story that spans years - first, a contemporary period of time in which a sudden flu pandemic kills 99% of the Earth's population in a matter of days. Second, twenty years in the future, where those that have survived are remembering the old world, have adapted to the new world and have long ago stopped hoping for a future. Just before the flu hits worldwide, though, an aging but famous actor has fallen dead of a heart attack while onstage in Toronto. This actor is where everything begins, even long before he set foot on that stage.
This book is amazing. I just have to say that first and foremost. The way the story comes together is brilliant. I will say that it took me a little bit to fall into the story, but once I was hooked - you couldn't stop me. The way this entire post-apocalyptic world was created really got into my head. I had dreams/nightmares in which I lived through the flu outbreak and the ensuing chaos. The loss.... so much loss.... it is truly heartbreaking. It works at your soul.
This is really up there with
The Road
by Cormac McCarthy for me, though I am somehow leaving this book a little more uplifted than I did with his. This is just a beautifully intricate and darkly moving novel that I am sure to recommend to many at the library.
But I seriously need a happy book now.
*****
Station Eleven
by Emily St. John Mandel
Knopf, 2014
333 pages
Source: Library
*****
-----