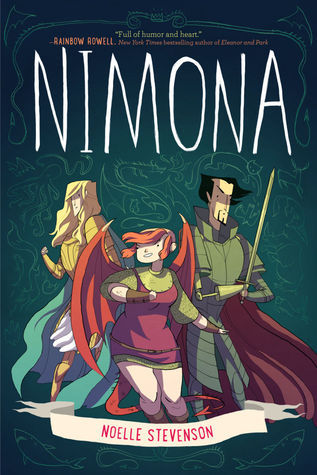 Young Nimona convinces Lord Ballister Blackheart that she is the sidekick he needs to fulfill his evil plans against the Institution for Law Enforcement and Heroics. He is, after all, trying to take them and their hero Sir Ambrosius Goldenloin down for the past injustices he has suffered at their hand. Nimona brings a little something special to the table too - she is a shapeshifter who loves being on the villainous side of things and doesn't mind a little killing to reach her goals. However, she also has a mysterious past (not to mention the circumstances surrounding her shapehifting ability) that Blackheart didn't quite expect and definitely doesn't understand. It is up to Blackheart and Goldenloin to bring everything back under control. When that happens, though - who wins and who loses? Who's the good guy and who's the bad? And what happens to Nimona?
I love Stevenson's
Lumberjanes
comic and had heard great things about this one - so I had to grab it as soon as I could! So glad I did - it is fantastic! Nimona is introduced as a little spitfire, and grows into her true motivations. I loved the relationship that she had with Blackheart too. Actually, I loved the relationships between all of the characters because really, even if they are arch-nemeses, there still is a relationship there. Its a fun little world here that Stevenson has created, and not without huge battles - with dragons even - and a little bank robbery and such. I also love the subtle humor which flows throughout! If there is anything that irked me in even the slightest, it was just that the dialogue text got smaller and a bit harder to read as the book went on. So, yeah, the only trouble spot for me is pretty superficial. The art is fantastic! I love her style so much!
Basically, I just loved this book. Loved.
*****
Nimona
by Noelle Stevenson
HarperTeen, 2015
266 pages
Source: Library
*****
-----