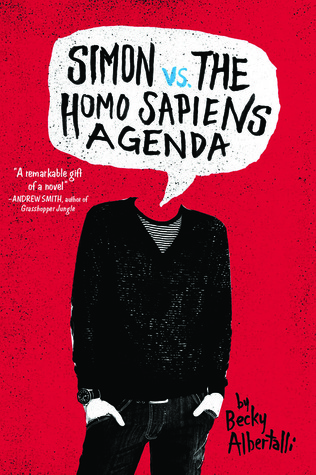 Simon Spier has not come out about being gay, except to Blue. He has no idea who Blue really is (and Blue doesn't know who Simon is either), just that they go to the same school. They met online via an anonymous post to a Tumblr where one talked about being gay. They exchanged secret email addresses.... and told each other everything. As their relationship just begins to escalate, a classmate finds one of Simon's emails and confronts him about his sexual orientation, the fact it is a secret.... and that he'd be more than happy to keep his secret if Simon could hook him up with his friend Abby. Straight-up blackmail. It's not good... Simon wants to protect Blue, protect his secret (until he's good and ready to tell it himself), and not set up his friend with a guy she's not interested in. Its an impossible situation...
I loved loved loved this book!! I love Simon, I love Blue, I love all of Simon's real friends, and I love his family. I love the humor, the cuteness, the overall tone... I just absolutely adored this book. I was reading this book on an airplane, and I was so engrossed that I didn't even realize that the plane had landed.
Seriously.
This is an amazing love story where two people get to know each other in an incredibly intimate way without knowing the other's name, looks, friends, etc- but still watching one try to figure out who the other's identity. I absolutely loved it. Did I say that already? I don't care - I'll say it again - I LOVED this book!!
*****
Simon vs. the Homo Sapiens Agenda
by Becky Albertalli
Balzer + Bray, 2015
303 pages
Source: Purchased New
*****
------