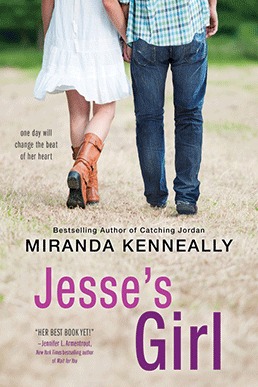 It's Shadow Day for the Hundred Oaks Seniors, where the students get to shadow someone working in the real world - doing what they'd like to do. Maya Henry never thought that when she said she wanted to be a rock star that her school would set her up to shadow a real music star. Not just any one either, but none other than Jesse Scott, the 18 year old country music star. Things don't start out so well - considering Jesse is only used to people wanting to know him for their own selfish ulterior motives, and Maya is a little gun shy about letting her guard down as well. But they both have things to learn... and who knows what might happen?
Ok, so that was the worst/cheesiest question to ask. Because if you've read any of Miranda Kenneally's books, you know exactly what might happen..... and that is why you are reading these books. Personally, I love them. You know what you're in for - a sweet romantic story with good friends, a strong female character and a swoony male character. It is a perfect happy read.
The bonus here is that it is part of the Hundred Oaks series. If you've been reading along, Maya is Sam Henry's younger sister - only she's seventeen now. Sam and Jordan are side characters here, and it is fun to get a glimpse into what they are up to now. The thing that bothers me is that of all these books, I read
Breathe, Annie Breathe
out of order - that was the book that immediately precedes this one. And while I do realize that this really and truly does not make a difference in the general story... now that I've gotten to know them all - I need to go back and revisit that book.
*****
Jesse's Girl
by Miranda Kenneally
Sourcebooks Fire, 2015
287 pages
Series: Hundred Oaks #6
Source: Purchased New
*****
-----