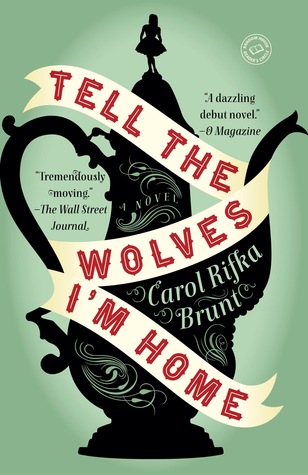 It is 1987, and fourteen year old June Elbus has just suffered the biggest loss of her life thus far: the death of her beloved uncle Finn to AIDS. The loss of Finn affects June's entire family in different ways, and definitely brings the worst out in her relationship with her older sister Greta. June, though, feels as though she is suffering the most from this profound loss. At the funeral, June notices a strange man who was somehow "not invited". Then, the man sends June a note, asking to meet as he was Finn's "special friend". June warily agrees to meet with Toby, and finds comfort in commiserating in her grief. Finn really did know only the best people.
This is the first book of the year for the book club I'm co-running at work, and what a great choice it was. I cannot wait until we meet and see what everyone else thought about it!
June is such an old soul. I really liked seeing the world through her eyes. I had issues with some of the others in her family, but my issues made them seem or feel more authentic and true. This also includes her budding relationship with Toby. It starts off a bit rocky (and creepy if you ask me), but when you realize the loneliness felt by each and the other motivations they have.... it turns into something wonderful and important.
There is so much to love about this book, even though it is maddening at times and heartbreaking at others.... it is so wonderful.
*****
Tell the Wolves I'm Home
by Carol Rifka Brunt
Dial Press, 2013. First published 2012.
355 pages
Source: Purchased New
*****
-----