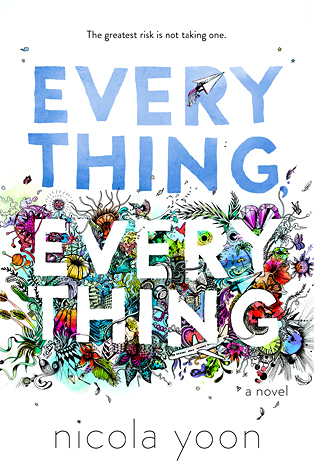 Madeline hasn't been outside since she was a baby. She can't - it could kill her. She has a very rare disease called SCID which basically means she is allergic to the outside world. She's made her peace with this - she dreams of the outside in all of the many many books she reads, does well in her online classes and counts her mother and her nurse as the only people she really knows. Until Olly moves in next door - and suddenly she's thinking about taking risks for the chance to really live.
Wow. People have been saying all sorts of great things about this book, and I have to agree. This was fantastic! Madeline is a great character - she has major obstacles in her life, with nothing getting any easier as she gets older but she handles it. It is what it is, and she's working through it. But once she has a glimpse of the outside world, once she has that taste of something different, a connection to someone else then that Pandora's Box has been opened and her entire world is changed forever. Olly is a great character to give her this spark. He has his own set of family problems (spoiler alert - his father is a complete a-hole) but he hasn't lost himself in that mess. Yet.
This is a great, quick read. It comes in at just over 300 pages, but many of those pages are filled with beautiful illustrations (can we just agree that the cover itself is amazing?) as well as many emails/online chats between Madeline and Olly. Even so, the story is captivating and moves you along quickly in itself. I loved it.
*****
Everything, Everything
by Nicola Yoon
Delacorte Press, 2015
307 pages
Source: Library
*****
-----