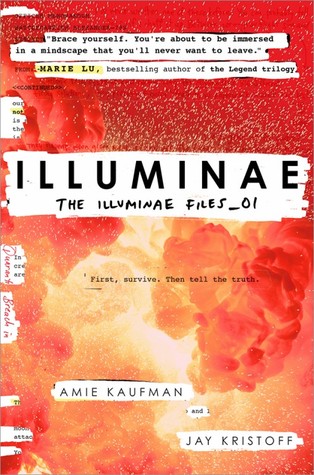 Kady and Ezra thought the worst part of the day was over. I mean, it was a pretty harsh break up. But then their world was literally destroyed by BeiTech and now they are on separate refugee ships, inching their way slowly back toward the nearest help. Of course BeiTech is in pursuit as their attack went a little strange. On top of everything else, it seems that BeiTech also released a mutating virus that is behaving, well... in unexpected ways. It has turned those exposed into crazy, raging, bloodthirsty "people". Oh, and the artificial intelligence that runs the ship that Ezra is on (the ship that is protecting the ship Kady is on) seems to be acting independently and, well, not very logically. So Ezra is doing what he can to stay alive, and Kady is using her computer hacking skills to discover the truth. And both are now rethinking that break up.
I think you all know that science fiction is not my usual genre. I dabble in it here and there, but it just isn't something that I read very often. All of a sudden it seemed like everyone who went to BEA was raving about this
Illuminae
book and wouldn't stop talking about how good it is. Naturally, my curiosity was piqued. A copy of the ARC showed up in my mailbox one day and my friend was adamant that I read it next. So I did.
HOLY CRAP you guys. I was completely wrapped up in all of it. You see, the entire story is told in a series of "found" documents, transcripts and schematics. It is brilliant. You can see the story unfolding, and you just can't help yourself from turning pages to find out what happens next! This is just something else.
The ending came with a few quick twists and turns which threw me for an emotional loop. This is obviously the start of a planned series (trilogy?) and so has the necessary cliffhanger at the end. I'm not sure how I feel about that, but given that I didn't see the twists coming in the first place - I have no idea where the rest of this series is going to go. And I love that.
Listen to the buzz on this one. Take it from this non-scifi reader who loved this book.
*****
Illuminae
by Amie Kaufman and Jay Kristoff
Random House, 2015
608 pages
Series: Illuminae Files_01
Source: Arc from a friend
*****
-----