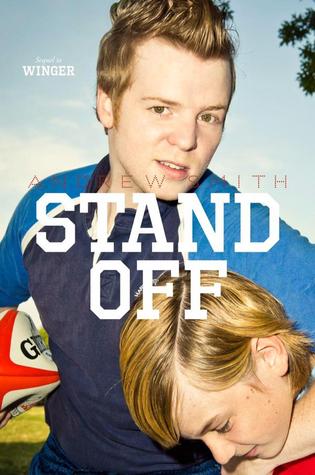 Ryan Dean West has returned to Pine Mountain for his senior year, and it is immediately clear that this year is going to be very different for him. Yes, he is a fifteen year old senior - but he is, in fact, a senior. But somehow he is stuck rooming with a twelve year old freshman - down in the freshman rooms of the boys dorm. He also can't seem to shake this awful anxiety and fear that something terrible is going to happen. He can't sleep, he's not eating... and it is affecting his relationship with Annie. What is going to happen to Ryan Dean?
Oh, my - Ryan Dean - I've missed you so much! I didn't even realize how much until I started reading just the first few paragraphs. This book is the perfect sequel to
Winger
, which I highly recommend as well. I am so thankful we got to see how Ryan Dean comes back from what happened last year. He's just such an endearing character. I mean he's hysterically funny, kind of an asshole and has his head in the gutter 90% of the time... but he's also a little bit broken and has a very good heart.
Besides Ryan Dean and Annie, there are only a handful of returning characters - mainly Seanie and JP. But Ryan Dean's new roommate - Sam Abernathy - and their relationship is just too much. I was laughing so hard at Ryan Dean's entire living situation, and how he talks about it.... so funny!! Sam provides more than just comedy though, and it is a possible little insight into what freshman year might have been like for Ryan Dean - except I don't think Ryan Dean was ever exactly like Sam. At all.
I could go on and on... but trust me, this is awesome. But read
Winger
first, if you haven't already. Trust me.
*****
Stand Off
by Andrew Smith
Simon & Schuster, 2015
401 pages
Series: Winger #2
Source: Purchased New
*****
-----