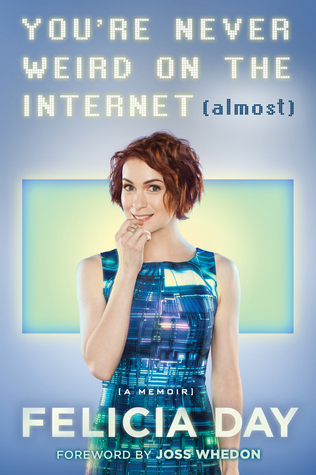 I have absolutely no idea why I like Felicia Day so much. I'm not a gamer, I haven't watched
The Guild
.... I only know her from
Buffy
and
Dr. Horrible's Sing Along Blog
(which is one of my absolute favorites, still). But I've followed her on Twitter and Instagram, and I think I've just always thought she is completely down to earth and totally comfortable flying her freak flag. I like that, as I enjoy flying my freak flag as well.
I was excited to read her memoir, but really scared that she would end up being not at all as I pictured her. Thankfully, she is exactly as I imagined. This book proves just how awesome she is! She talks about her unusual upbringing, her college career, and the huge risk she took moving to LA to pursue acting. She talks about creating fulfilling projects, and the danger of losing herself so completely in them. She doesn't try to hide the darker side of her history, and I thought she was brave for talking about it.
I really thought she was incredibly brave for dedicating a chapter to the awful #GamerGate scandal, and the treatment she received from the attackers. She talked about being doxxed and the scary situations (in her own house) that happened as a result. Horrifying. This coincides with her obvious moves to keep some of her life private while also writing a memoir. She handled that balance with grace. And even though she has had the kind of career that could allow her to fill a book with name-drops galore and juicy backstage stories - these are really kept to a minimum. It makes sense - she's a thoughtful person who respects her friends' privacy too!
Honestly, this becomes a love letter to the Internet and all the wonderful things that has/can/will come from it. This includes the dark side of #GamerGate as well, as it serves as a bit of a warning to humanity.
In the end, I thought this was a great memoir that only reaffirms my general liking of Felicia Day. I can't wait to see what she creates next!
*****
You're Never Weird on the Internet (Almost)
by Felicia Day
Touchstone, 2015
260 pages
Source: Library
*****
-----