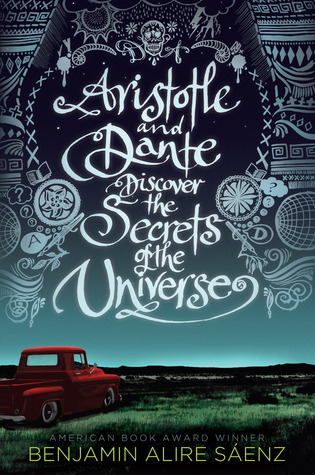 Aristotle Mendoza is an angry guy who likes to be left alone. His older brother is in prison, but no one in his family talks about him - its almost as if he's really dead, not locked up. Ari's father is locked up kind of locked up too - but more in his memories of the war that he doesn't talk about. One day he meets Dante at the pool, and based on their names alone - they hit it off and form a nearly instant bond. Their friendship doesn't come without some major tests though, but together and with their individual personal battles.
I had an unexpected solo road trip a couple weeks back, and just before I left - I saw that my library had this audio book on the shelf. At 7 1/2 hours long, this was just a couple hours short of my trip - AND I have been wanting to read this for so long now - I snatched it up and listened. I was blown away.
This is such a beautiful story of a friendship. Two guys, on the cusp of "manhood" working to figure out their own identity - wanting to write their own life story with their own ideas. Ari is caged in and feels trapped by the need to be a "good boy" for his parents, who already have one son in prison. He needs to create rules, and is okay with breaking them only behind his mother's back. Dante is also figuring himself out and experimenting and falling in love.
This story went places that I didn't expect, and completely loved. The ending is so perfect that after I listened to it - I went and read it again. The interactions between the characters are so honest... I loved the roles of the parents as well. The narrator handled the different characters so well, and packed plenty of emotion into his performance. Do yourself a favor and read or listen to this story if you haven't already!!
*****
Aristotle and Dante Discover the Secrets of the Universe
by Benjamin Alire Saenz
Narrated by Lin-Manuel Miranda
Simon and Schuster, 2012
359 pages / 7 hours 30 minutes
Source: Library
*****
-----