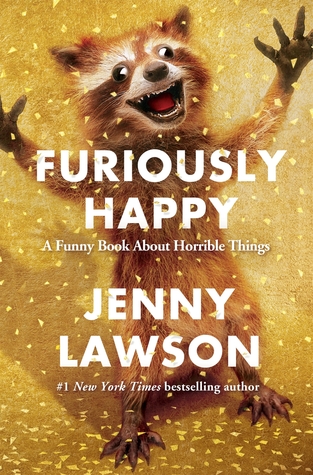 The Bloggess, Jenny Lawson, has delivered the perfect follow up to her very funny debut
Let's Pretend This Never Happened.
Of course she did - she's hilarious and quirky and true to herself. Where her debut was very much a memoir, this book has a different theme. Here she is talking and relating her experiences with her various mental illness diagnoses. She is brutally honest about her personal issues with depression and anxiety, as well as self-harm and others. She deals with a lot on a daily basis, but its clear that she trusts and can find support in her loving husband, daughter and her various doctors. She also finds support in her public, the tribe that follows her on Twitter or her blog... and she is clearly very appreciative of that support. Through all of this, she keeps up her sense of humor and invites the reader to laugh along with her.
I think what I got most out of this book was a better understanding of how some of these different mental illnesses work together and against a person. I am not dealing with any of the issues on the same scale that Jenny is, but I find myself understanding my own 'quirks' a little better. I know that I do things to myself with which I find both comfort and shame (not completely harmful, but is damaging in a way). I never really understood that other people probably have the same sort of things. But in Jenny I see this on a bigger scale and I get it. I totally get it.
Also, Jenny works italics and ALL CAPS and bold words like nobody's business.
But I do have a warning... I had a lot of trouble reading this book before bedtime. Mostly because I would get laughing to the point of tears and it is impossible to fall asleep then. And when I did fall asleep, my dreams were more likely to feature possums, kangaroo suits and crazy happy looking raccoons. Just look at that cover.
I don't think I've laughed out loud at a book quite as much as I did with this one (with the possible exception of Jenny's previous book or
Me Talk Pretty One Day
by David Sedaris). I loved it!!
*****
Furiously Happy
by Jenny Lawson
Flatiron Books, 2015
329 pages
Source: Library
*****
-----