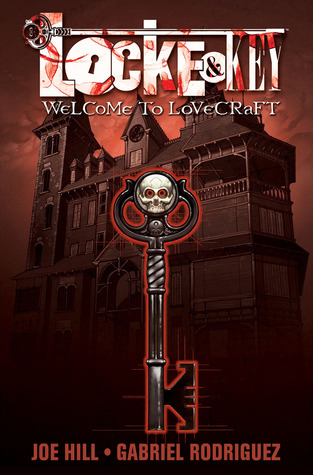 Welcome to Lovecraft, MA. To be more specific, welcome to Keyhouse. The Locke Family, or really - the four remaining members of the Locke family have just moved in. This is where Rendall Locke had grown up and where his brother Duncan still lives. Duncan has taken in Nina and the three kids following Rendall's murder. But Keyhouse is special. Keys unlock doors that change whomever walks through them. And then there is also the Well House, and the echo that lives there....
Joe Hill writes some of the creepiest stories out there, and when you pair his story with Gabriel Rodriguez's art - get ready. The circumstances surrounding Rendall's grisly murder are explained slowly, not sparing the emotions felt by the three kids or Nina. The murderer isn't exactly random either, and that leads to even more curious and mysterious questions surrounding this family. These questions lead to the magical mysteries surrounding the house as well.
I wasn't completely sure about this book, and the subsequent series but I am hooked after this volume. I am looking forward to reading more - seeing how the family gets out of their current situation and discovering more about the house and its secrets!
*****
Locke & Key Volume 1: Welcome to Lovecraft
by Joe Hill
IDW Publishing, 2008
168 pages
Source: Library
*****
-----