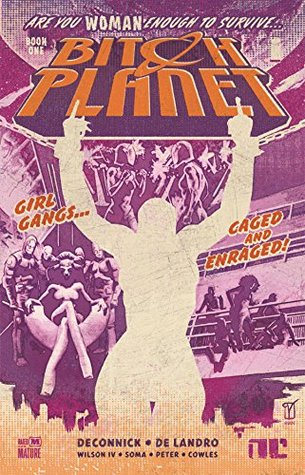 Are you Non-Compliant?
I am. Honestly, in this world, it seems like any woman could be called non-compliant if a man says. She could be too big, too thin, too out spoken, too gay, too disagreeable... doesn't matter. If it upsets a man, the patriarchy has the solution. The Fathers send the offending/offensive woman to what is known as Bitch Planet. Basically, its an off world prison where the NCs are to do penance for their crime. Of course, no one actually leaves....
This is awesome. I love it. This volume collects the first five issues so there is a lot of introductions and a bit of back story that needs to happen but I think this is going to move on to something great. The story arc right now is that that Men on Earth are getting ready to compete in this big, manly competition. The company/government isn't raking in the money like they used to on this, so to spice it up - they are basically forcing the NCs on the Bitch Planet to come up with a team and compete. The girls are sure to lose (and die) for the financial gain of the patriarchy... but I think they have a few tricks up their sleeves. I can't wait to see where this goes!
Also, toward the end of each issue is an "ad page" set up all retro style. When you read this (and trust me, you really really should read this), pay attention to these ads. You're welcome.
*****
Bitch Planet Vol. 1: Extraordinary Machine
by Kelly DeConnick
Image, 2015
136 pages
Source: Library
*****
-----