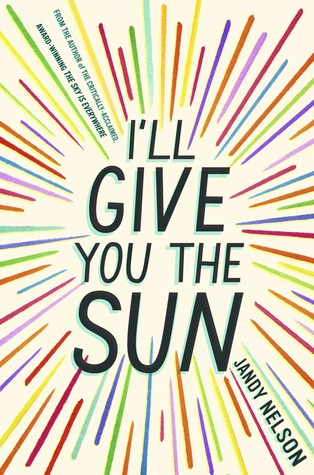 Twins Jude and Noah had always been right there for each other. They could finish each others sentences, understand each other perfectly... it was like they even had some sort of telepathy thing going on. But then the summer they were 13 happened, and nothing was ever the same between them. This is their story - Noah's side comes from when they were 13; Jude's from when they are 16. The distance between those three years is incredible. Do they ever have a chance to be the brother and sister they once were again?
I just cannot do this novel justice. It is so beautiful, so intense, so completely different than what I expected... so very deserving of the attention it has received. I will admit that it took me a beat to get into this. Noah is an artist, and naturally sees the world in a unique way. But when you see as he does... the world is a different place. And then when you see how he has changed, and what happened to change him...
Jude is just the opposite. We get to know the older Jude, the one already changed, the one still working through what happened that summer three years ago. Noah and Jude, three years apart, are wonderful reflections of each other - they just don't know it. Neither are perfect as they both have done terrible things... but I just love them both. The characters that surround them, the ones that end up being the closest to them are incredible as well. This is really a well-rounded cast of characters and every one of them makes my heart ache.
This is such a beautiful book, even the hard, ugly, sad parts. I loved it all!
*****
I'll Give You the Sun
by Jandy Nelson
Speak, 2015. First published 2014.
400 pages
Source: Purchased New
*****
-----