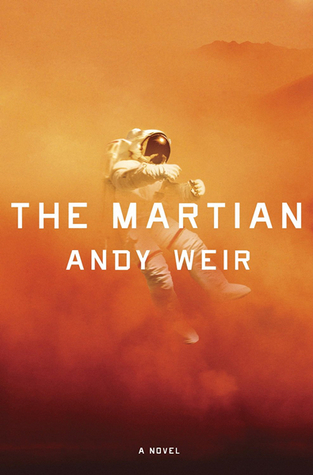 A series of freak occurrences, and perhaps a bit of bad luck, changed everything for Mark Watney. He and the crew he was with got caught up in a major storm while on the Mars surface. Watney was injured and separated from the rest of the team. Believing that Watney had died from the injury (they had seen it happen and it not only looked bad but that it had also compromised his protective suit, and that the monitors in the suit said he was dead) they took off with only seconds to save their own lives. It was a terribly difficult decision, but the right one. Watney, however, was not dead. He was now stranded, alone, on Mars.
Clearly, there has been a lot of buzz about this book. Then there was the movie starring Matt Damon.... which went on to be nominated for all sorts of impressive awards. I wanted to see what the buzz was all about (before I saw the movie of course) but I was nervous - science fiction is not typically my thing. This book, however, was totally my thing.
I was hooked right from the start. The hopelessness of the Watney's situation, and the fact he kept his wits and sense of humor about him. The pacing is perfect. There are nice dramatic buildups to the major scenes with some calming, but important lows in between. I really enjoyed the character of Mark Watney. The way he is written makes me completely buy in to this totally outrageous situation. There is a lot of science discussed as well, but it is explained in such a way that even though I don't fully understand it, I didn't feel like it was making my head spin at all. The ending was incredibly intense, as I'm sure you can imagine. I loved every bit of the ride.
I can see this being an excellent movie, and I look forward to seeing it soon! This is great for adults and teens who enjoy science fiction, adventure and survival stories - especially peppered with humor.
*****
The Martian
by Andy Weir
Broadway Books, 2014. First published 2011.
369 pages
Source: gift
*****
-----