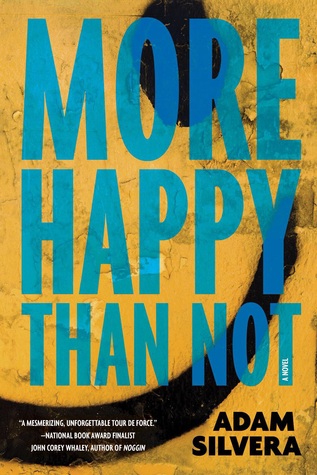 Its summer in Aaron Soto's complex in the Bronx, and things are going on as well as they can. Aaron's family is still grieving after his dad committed suicide a few months ago - and Aaron tried to follow not long after. But things are going with the same group of kids that Aaron's grown up with, his beautiful girlfriend, and his job at the Good Food Store. Aaron meets this kid Thomas from a nearby complex, and they become good friends fast. In fact, their friendship becomes such a big deal for Aaron, that things with his girlfriend starts to take a turn. It becomes this big, messy, love and unrequited love thing. Aaron starts to think that undergoing that Leteo procedure which removes and manipulates your memories doesn't sound like such a bad idea.
I really wasn't sure about this one, although I had heard positive things about it. The opening couple of chapters were a little rough for me to get into, probably because I wasn't ready for it. Aaron's neighborhood is very different from what I know, but the author was able to put me there. It didn't take long for me to get into this at all. And then it happened. This thing happened right where I planned to stop reading for the night - and instead I stayed up way past my bedtime to finish. It has been a long time since that happened, and wow. I was just floored by the direction the story took! I mean, honestly, this book really is something special.
The major themes in this book are identity and sexuality while also exploring social class and philosophically - how much are we defined by the memories we carry? Again, I just have to say that this book is something special. You'll be glad you picked it up. I know I am.
*****
More Happy than Not
by Adam Silvera
Soho Teen, 2015
293 pages
Source: ALAMW16
*****
-----