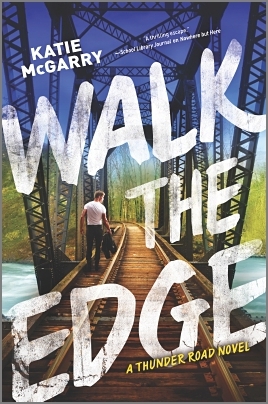 We remember Razor from Book 1 of this series (
Nowhere but Here
)... he's the newly patched in member of the Reign of Terror Motorcycle Club who most think has a touch of crazy. He has a temper, and is constantly haunted by rumors and gossip surrounding his mother's death when he was 10. Now a detective has shown at his door, asking questions and implying that perhaps her death was not an accident. Razor starts to second guess everyone... including the club. Breanna Martin, on the other hand, is quiet and smart and nearly always forgotten. As the fifth of nine kids... yeah, she gets lost in the shuffle sometimes and she's had enough. For her senior year, she has decided that she wants to stand out more - get noticed. Nothing goes as planned, and a chance innocent encounter with Razor turns into blackmail material for a jock who wants Breanna to cheat for him. Breanna and Razor team up to outsmart the blackmailer.... and more.
I love McGarry's novels. You know the basics of what to expect, and the journey is so incredibly worth it! She always creates this incredible characters that you just fall for instantly. I wasn't sure about this whole series built around a motorcycle club at first, but clearly I am completely sold on the idea now. I'm already looking forward to the next book! But let me take a step back really quickly...
I read an ARC of this book, so not a finished copy. Besides the expected typos, I did have some issues with a couple continuity areas that I hope were corrected for the finished copy (I apologize - I haven't had a chance to check myself). Nothing major of course, and they certainly didn't shut down the book for me. Rather, I got wrapped up in the intensity of the drama and ended up racing to the finish! There are some heart pounding moments - especially the climatic ending - that were incredibly thrilling. And then there were those other kinds of heart pounding moments - the incredibly sweet and sexy moments that we also love.
I hope this isn't the end of Razor or Breanna - it was fun seeing Oz and Emily again, even if just for a bit - but bring on Chevy and Violet! That snippet of a chapter from the next book was such a tease!!
*****
Walk the Edge
by Katie McGarry
Harlequin Teen, 2016
448 pages
Series: Thunder Road #2
Source: ALAMW16
*****
-----