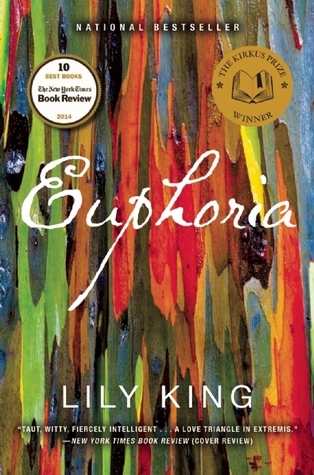 Based loosely on events recounted in biographies about famed anthropologist Margaret Mead,
Euphoria
tells the story of three anthropologist's experience in the field in the late 1930's. The setting is the lush New Guinea jungles around the Sepik River. Andrew Bankson has been studying the Kiona tribe for nearly two years and his loneliness has nearly killed him once. But then he meets with Schuyler "Fen" Fenwick and his wife Nell Stone. The three fall into a fast friendship (though Bankson starts to feel more than friendship for Nell). Bankson wants to keep them close to him and his Kiona, so he brings them to the nearby Tam tribe. Fen can't let go of the tribe he and Nell previously studied this leads to their combined destruction.
This is the last book for the season of our library book club, and I don't think we could have ended on a better note. Of course, I may be biased with my undergrad degree in anthropology... but I didn't necessarily study cultural anthropology - just the basics. The concepts are all there, and this was the time when this social science was exploding. New cultures were being discovered and studied ethically (though sometimes not). This cast of characters presents that perfectly. You have Nell, the brilliant scientist who really sees the big picture and observes subjectively and with confidence. Bankson, who has zero confidence and even though he has been trained in school, still doesn't really seem to grasp what he's supposed to be doing in the field. And Fen, who cannot extract himself from the culture at all and seems to be conflicted with joining a tribe or taking advantage of one for his own personal vanity and financial gain.
The narration of this book is perfect as well. It takes a bit to realize who exactly is telling the story, and then see the quick jumps back and forth in time shows the emotional state of the narrator. The language is spot on - and fun considering you've got an American, a Brit and an Aussie as well as all the native languages to the area.
I really don't want to give anything away. This is truly a wonderful book - full of adventure, gorgeous setting, intriguing characters and a spot of romance. I loved it.
*****
Euphoria
by Lily King
Atlantic Monthly Press, 2014
261 pages
Source: Library
*****
-----