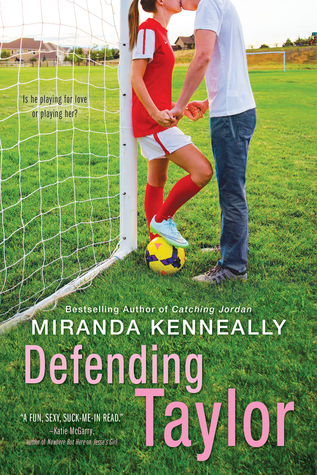 In one instant, everything that Taylor has worked for is gone. She has busted her butt at her elite private school for the best grades, near perfect SAT score and to be captain of her soccer team and is on her way to an early acceptance at Yale when she is expelled. She didn't do what they think she did, but she doesn't want to be a snitch either. Things keep going downhill though when it seems this incident is also having a damaging effect on her father's Senate reelection campaign. She is forced to go to public school - Hundred Oaks High, and while she's lucky enough to get on the soccer team... it just isn't at all what she's used to. The only friend she seems to have now is Ezra - her older brother's best friend and the first boy she ever wanted.
I've said it before, and I'll say it again - I just love this series of books! This might be the first one to not feature any of the original characters... I mean, they are off having their adult lives now... but we do see glimpses of former friends. Like Jack and Savannah from
Racing Savannah
and Jeremiah and Annie from
Breathe, Annie, Breathe
. Oh and we get a little update on Maya from
Jesse's Girl
too. So, if you've read all of these books, you'll know how fun it is to check in with these characters. If you haven't read the other books - don't worry about it. You probably won't even notice.
So in this book, we've got Taylor. She's super motivated, super studious, and has all the answers that her equally driven family expects of her. But she is far too wrapped up in what she thinks she's
supposed
to do and want than actually knowing what she wants to do. She has been pushing so hard for a goal that isn't even really hers. Ezra is on his own journey. He has taken a leave of absence from college, which has made him an outcast in his family, while he figures out what he wants to do as well. There's a twist for him though, and Taylor is there to help him work through that. I didn't expect his backstory to be what it was, and I thought it was really well done. The tag line on the cover reads "Is he playing for love or playing her?" and that is so false. Ezra is pretty awesome, generally speaking, and this tag like is completely misleading.
I loved this contemporary romance as I have all of the others. This is one series that stays fresh and interesting!
*****
Defending Taylor
by Miranda Kenneally
Sourcebooks Fire, 2016
290 pages
Source: Purchased New
*****
------