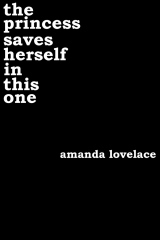 I really haven't read much poetry, but I'm trying to work on that. I saw that this book won this year's GoodReads Award for poetry, so I thought I'd give it a shot.
First of all, I have to say that I admire this young woman for writing her truths here. I think she is a brave person, as I know that I don't have it in me to put myself out there like that. These are very personal poems, and I truly admire her for that.
Most pages are a single, short poem and I did connect with several of them. But I was left feeling like many of these poems were really just great sentences with a lot of line breaks to give the look of a poem. I tried reading some of these out loud, and I put the breaks in different places so I'm not sure if I'm doing it wrong or what. Maybe that is how poetry works... and I just don't know enough about it yet.
This book was self published, but it looks like it has found a publisher for February. It is clear that she is going places though. It seems she is still a college student, which means that she should have a long future of writing ahead of her!
*****
the princess saves herself in this one
by amanda lovelace
CreateSpace, 2016
154 pages
Source: Library
*****
-----