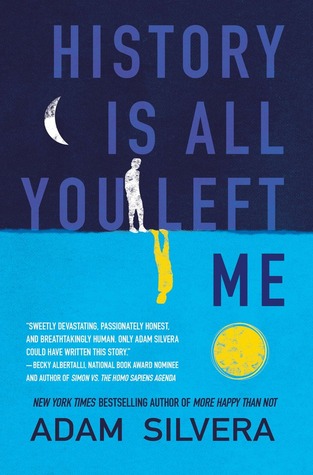 Adam Silvera is quickly becoming a favorite author of mine. I loved his debut,
More Happy than Not
, and I am deeply in love with
History Is All You Left Me
.
Griffin's best friend, first love, and ex-boyfriend Theo has died in a tragic accident. Griff is absolutely gutted... he is still very much in love with Theo and only broke up with him because Theo was headed off to college across the country. But Griffin didn't count on the possibility of Theo finding a new boyfriend at school - Jackson. And now Griffin and Jackson face each other at the funeral... and decide to keep talking as they are the only ones who understand what they are going through. Stories are told as well as secrets, and each has the power to destroy.
Silvera has absolutely nailed that feeling of grief. I lost several people while in high school, one of which was a boy that I enjoyed hanging out with (like many girls at our school). That loss was tragic and huge and made a loose group of acquaintances a very tight knit group through our collective grief. I felt that again in Griff and the way he was reaching out for Jackson. I was sad that he couldn't find that in Wade - the third in the Griff-Theo-Wade squad, but that reasoning is revealed later.
And, oh, Griffin.... Theo... even Jackson... Wade... these boys are so much. I loved and cried for them all. I recommend this highly to all of you.
*****
History is all you left me
by Adam Silvera
SOHO Teen, 2017
292 pages
Source: Library
*****
--------