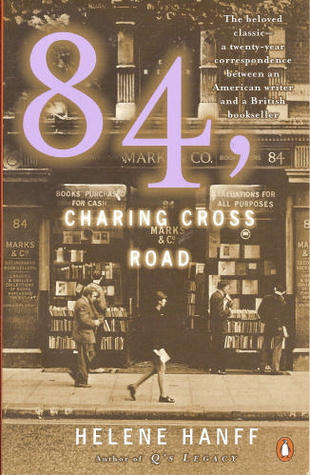 This book came recommended by a co-worker, and I thank her so much for it. She kept gushing and gushing about it, so I finally picked it up and gave it a shot.
I nearly read it in one night, even after I got home late closing the library. I had to make an effort to leave a little for the next day. Granted, it is a very short book, but still. Effort.
This is probably the most charming and delightful book I have ever read! It is the correspondence between Helene, the author in New York, and the bookseller at Marks & Co in London over a 20 year span of time. She adores out of print, second hand books which just so happens to be this shop's specialty. She developed a relationship with Frank, the bookseller over the years which expanded to include the others at the shop as well as his family.
And it's all because of and about books.
I absolutely love this book! I have already requested the sequel to this as well as another book she's written that sounds like it's more about books. I also hear that there is a very good movie that came out of this book as well... I may track that down as well. But I needed to share this book with you just in case you had been missing out as I was.
*****
84, Charing Cross Road
by Helene Hanff
Penguin, 1970
97 pages
Source: Library
*****
-----