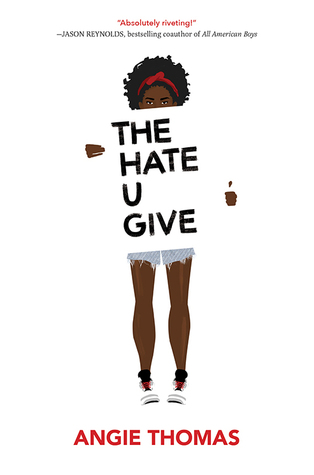 This is all you need to know about this book: Go get it and read it as soon as you possibly can.
That's it. This book is everything. It is exactly what we as a nation, we as Americans need right now. Want to know more?
Sixteen year old Starr Carter finds herself in a car with her best friend Khalil Harris. They are pulled over, and every though they had done nothing wrong, even though Khalil was unarmed, the cop shot Khalil three times in the back, killing him. Starr is the lone witness, and we see how this incident affects her, her family, her friends, her neighborhood.... everyone. Because Khalil matters.
I probably should tell you more about the book. But I'm not going to. Read it yourself. Yes, there are tons of things I could tell you about the characters, the pacing, the emotions, the everything else in the story. It's about as perfect as it can be. OK, fine.
Starr is such a wonderful character. She is smart, kind, funny, and fierce. She has the best parents, and great relationship with her boyfriend (who is white). Gunshots and gangbangers are not unusual in her neighborhood, but she sees and loves all the good it has to offer her. Even before what happened to Khalil happened, she has been noticing subtle racist things that have been said or done in her mostly white private school. She processes these and finds her voice in the aftermath, and she has a great, strong voice. I'm just going to stop here. There is no way I can do this book the justice it deserves.
This is a book that needs to be on every book list, on every library shelf, everywhere.
*****
The Hate U Give
by Angie Thomas
Balzer + Bray, 2017
464 pages
Source: Library
*****
-----