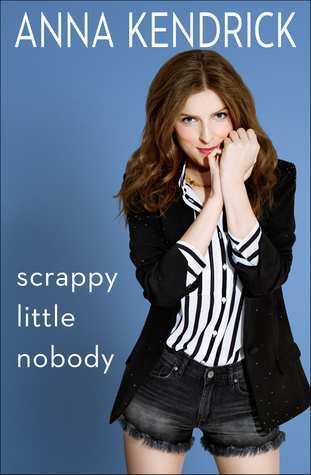 I love Anna Kendrick. I think she's a great actress, both in comedic roles and more serious roles and I think she has a great singing voice. She seems fun and normal and I was instantly curious when I'd heard she had written a memoir.
After reading
Scrappy Little Nobody
, I still think all of the same things about her. I think she may be a little overly self-deprecating at times... and I love how well-read she is, in a casual way. She's very talented and crass and comes off pretty honest. I didn't realize that she got her start on Broadway as a child, even earning a Tony nomination. I also didn't realize she grew up in Maine. She keeps appropriate things private - like, you're not going to find out about recent things in her love life, or things like that which is as it should be. You will get to find out about some behind the scenes stories about
Twilight
, and things George Clooney said or did while filming
Up in the Air
, and so on which is fun. You will also hear about what really happens backstage at award shows, and how earning an Oscar nomination does not translate to immediate financial security.
This is an interesting point in life for someone to write a memoir. She's certainly not at the end of her career by any stretch of the imagination, but she has accomplished quite a bit already. She's at the point where she just might start feeling like a grown up (but don't tell her that). I have heard that the audio version is fantastic as Kendrick does her own narration, and that is always a bonus for in my book.
*****
Scrappy Little Nobody
by Anna Kendrick
Touchstone, 2016
275 pages
Source: Library
*****
-----